Featured Stuttering Therapy Guides
SLPs love STR!
Early Childhood Stuttering Therapy is an amazing read and extremely practical. I don't remember enjoying a manual like this in. . . EVER! It is informative and easy to understand—and the visuals and handouts are so useful.
Morgan G.
SLP and Facebook Fan
Thank you for the OASES assessment. Using it this week with two 4th and 5th grade students was so enlightening. I wish there were assessments like this for ALL the communication disorders!
Peggy B.
School SLP
Just ordered ANOTHER copy of School-Age Stuttering Therapy: A Practical Guide—I keep lending mine out and not getting it back! Thanks for a great resource!
Louise V.
Generous SLP
As an SLP and person who stutters, I definitely love Stuttering Therapy Resources and all it offers the field of speech-language pathology—books, blog, and social media.
Melissa J.
SLP and Person Who Stutters
Just wanted to write a quick note to say a HUGE thank you to Scott and Nina for the well-crafted, practical videos for parents in this time when communication is more crucial than ever. The videos say exactly the message I wish to deliver to "my parents."
Jennifer C.
Clinic SLP
I had the most powerful and moving IEP of my career yesterday, and it was all in thanks to you! You have helped me see stuttering in a whole new light, and it has already made an impact on others.... so... THANK YOU!
Adi O.
School SLP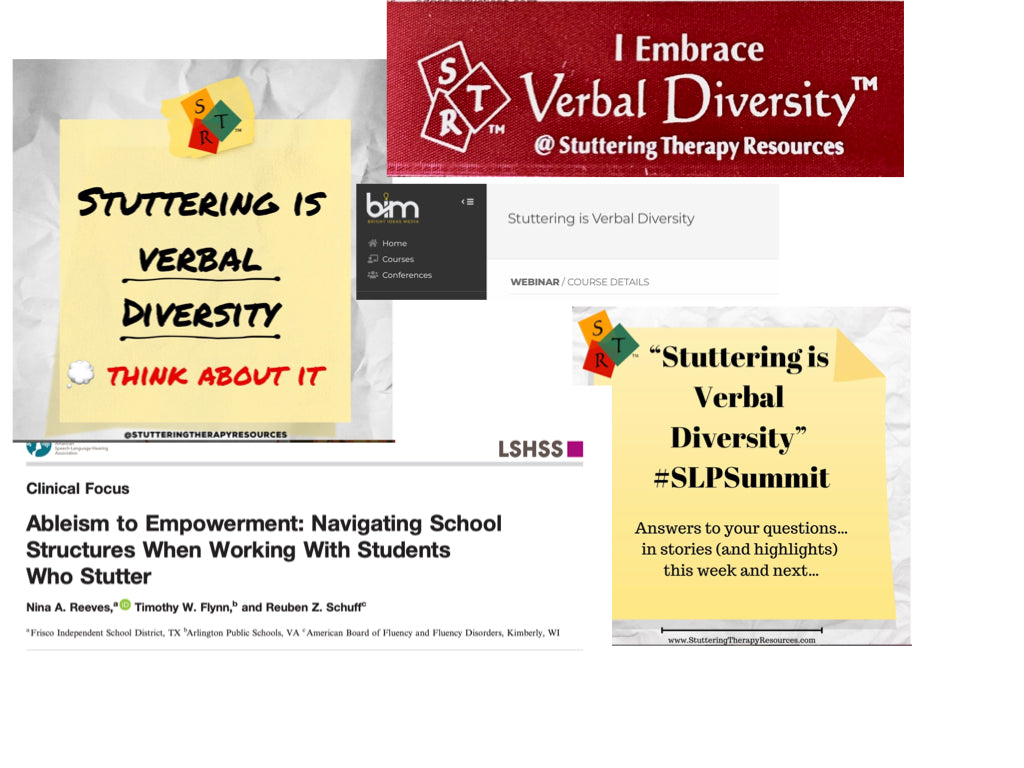 The Emergence of Verbal Diversity™ Before we delve into the concept of "verbal diversity," it's essential to understand the background of stuttering in society. In brief, stuttering has historically been viewed as a flaw, a burden, or something that needed to be "fixed." People who stutter have been subjected to therapies aimed at eliminating their disfluencies. This type of therapy has frequently led to frustration, low...